Oral medication Mavyret (a combination of the antiviral drugs glecaprevir and pibrentasvir) is used to treat and manage chronic hepatitis C virus (HCV) infection of any severity.
With a success rate of over 95% after eight weeks of treatment, Mavyret is an extraordinarily effective therapy. There has been no evidence of harm to blood enzymes throughout therapy with this combination, nor has it been linked to any new, observable liver damage.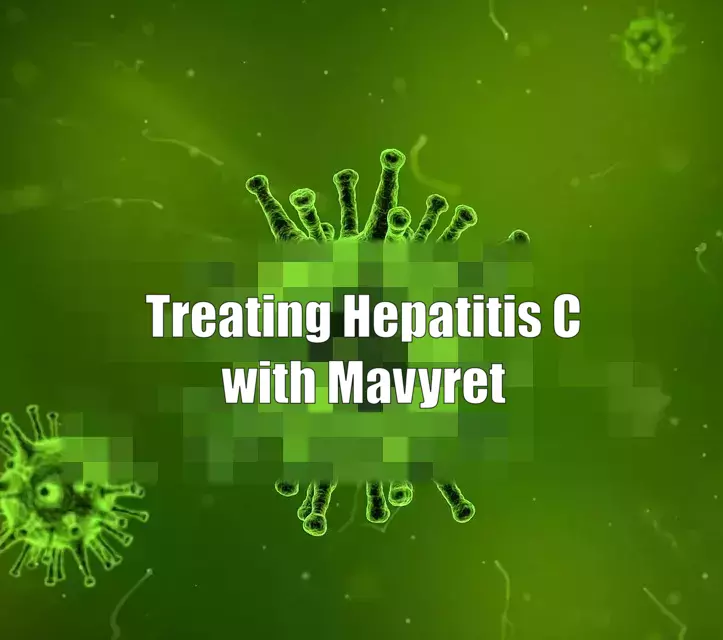 Nonetheless, it has the potential to trigger hepatitis B reactivation in extremely sensitive patients, just as other successful direct-acting antiviral therapies for hepatitis C do.
In addition, it can cause temporary liver instability in cirrhotic individuals. Overall, Mavyret offers a safe and effective alternative to standard therapy for chronic hepatitis C, and its results are encouraging.
The benefits of Mavyret over traditional treatments
Mavyret's 98% success rate in treating Hepatitis C is far higher than the 50–80% success rate achieved by conventional therapies.
Unlike conventional therapies, which may take up to 48 weeks, Mavyret only takes 8–12 weeks to complete.
The most prevalent adverse effects of Mavyret are nausea and headaches; however, they are less common than they would be with other therapies.
When it comes to treating Hepatitis C, Mavyret is the first pan-genotypic medication, meaning it works for all genotypes.
Mavyret is more convenient than standard therapies since it may be given orally in the form of pellets or pills.
How Mavyret works in the body
The glecaprevir and pibrentasvir in Mavyret lessen the quantity of virus in your system and boost your immune system's ability to combat the infection. Mavyret is an oral medication that you take as directed by your doctor, generally once a day with meals. If you want to get rid of the infection for good, keep taking Mavyret as directed and don't stop taking it before the doctor tells you to. Side effects from Mavyret are possible; however, they may be controlled with the advice of your doctor.
Possible side effects of Mavyret
Mavyret may cause stomach upset, headaches, tiredness, and loose stools. Nonetheless, these unwanted effects may be controlled. Here are some suggestions for alleviating the pain caused by Mavyret:
Reduce your meal size.
Eat cold meals and stay away from anything that makes you queasy.
Avoid fatty, hot, acidic, or sugary meals in favor of more nutritious options.
Don't forget to drink water.
Prescribe drugs during mealtimes.
Obtain a good night's sleep.
If you think your medicine or dose needs to be changed, talk to your doctor.
Always inform your doctor if you encounter any adverse effects. They will be able to help you deal with your symptoms and decide whether Mavyret is still the best option for you.
Who is eligible for Mavyret treatment and how to get started
Mavyret is a prescription drug for the treatment of chronic hepatitis C virus infection in people aged 3 years and older (hep C). All HCV genotypes 1–6 in adults without cirrhosis or with compensated cirrhosis are eligible for treatment.
Patients with genotype 1 infection who have been treated in the past with a regimen including either a hepatitis C NS5A inhibitor or an NS3/4A protease inhibitor but not both are also eligible for this treatment.
Mavyret therapy should begin after discussion with a medical professional. Your medical history and the presence of any other drugs or ailments will be taken into consideration when deciding whether Mavyret is the best therapy for you.
Dosage and length of treatment
There are a few factors to bear in mind about Mavyret dosage and duration of therapy. The recommended daily dose of glecaprevir 300 mg and pibrentasvir 120 mg for adults is three tablets taken orally once day with meals.
The dose for children is determined by their body weight. If you want your therapy to work, you have to give it to yourself the right way.
For treatment-naive patients with GT 1-6 and no cirrhosis or with compensated cirrhosis (Child-Pugh A), the recommended period of therapy is 8 weeks; however, this varies depending on patient group and past treatment history. Medication dosing and course of treatment decisions are best made in collaboration with a healthcare professional.
Cost of Mavyret
To decide if Mavyret is a suitable treatment for Hepatitis C, it's crucial to comprehend the expenses involved. The initial cost of Mavyret is approximately $13,200 for four weeks or $26,400 for eight weeks.
The potential long-term benefits of curing Hepatitis C, such as reducing the risk of liver damage and liver cancer, should also be taken into consideration when evaluating the cost-effectiveness of Mavyret as a treatment option. Consulting with a healthcare professional and insurance provider can provide further guidance on the financial aspects of Mavyret treatment for Hepatitis C.
Success stories of patients who have used Mavyret
The vast majority of Mavyret-treated Hepatitis C patients have had successful outcomes. 
One patient said they had no adverse reactions to the medication and were told the virus was undetectable after 8 weeks. 
Another patient who took the drug and tested negative for the virus reported feeling just minor nausea and exhaustion.  
One example is a 55-year-old patient who had been living with Hepatitis C for over 25 years but, after completing an eight-week course of Mavyret, was declared cured and experienced a significant improvement in liver function tests.
These encouraging results show that Mavyret may be an effective treatment for Hepatitis C and provide hope to those who are afflicted with the condition. While Mavyret results may differ from patient to patient, patients should still discuss it with their doctor and think about it as a treatment alternative.