The most effective way for toddlers to develop their motor skills is through creating a sensory-rich environment. You can transform the walls in your house into a fun playground or even dedicate some space in the nursery to toys that help to stimulate sensory development. Sensory walls and busy boards foster curiosity, hand-eye coordination and provide children with boundless opportunities for play-based discovery and learning.
Busy boards manufacturers offer a wide selection of sensory stimuli. Besides being fun and interesting, Sensory walls encourage children to explore the world and understand a range of concepts related to how things work.
The benefits from using busy boards
Busy panels are an excellent addition to nurseries, little nooks dedicated to playtime, kindergartens, elementary schools, and many other places. They provide a broad range of sensory stimulations by allowing children to interact with objects in many ways.
Decorated with vibrant colors and equipped with lots of small and big elements, Sensory Walls and Busy Boards positively influence child development.
1. They encourage the development of fine motor skills
During play with big and small objects securely attached to a board, a child strengthens muscles of hands and fingers, which is crucial for being able to manipulate more complex tools at a later stage of development.
2. They allow children to exercise their imagination
With the plethora of opportunities for exploring how different items work, it is not surprising that activity boards can keep children with a short attention span busy for hours. The reason behind this is that such kinds of Montessori toys let a child's imagination soar as they play with them.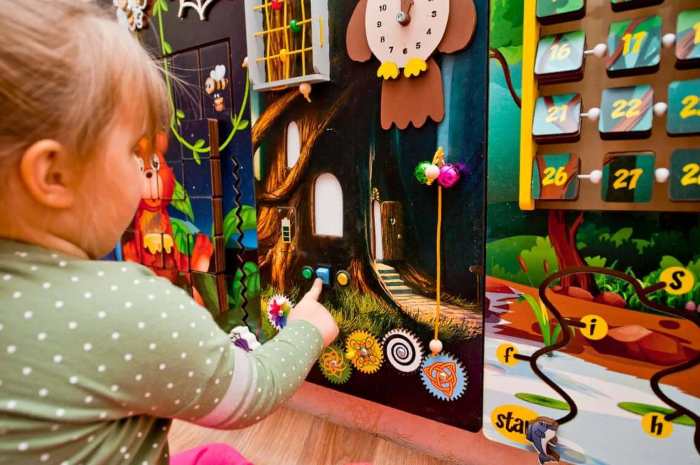 3. They have a positive impact on mental development
These toys play a significant role in stimulating cognitive development, namely problem-solving skills and cause and effect learning.
Every item used to build an activity board is a kind of riddle, which a child has to solve. Ideally, parents should encourage their babies to find out how something works rather than showing them exactly what needs to be done.
Sensory walls also include elements that help toddlers understand the basic concepts of how things move, including:
clockwise and counterclockwise rotations,
zipping and unzipping,
horizontal and vertical movements,
locking and unlocking,
lacing and unlacing, etc.
4. They help to enrich tactile sensation
Along with fine motor skills and cognitive development, activity panels that include objects made of various materials stimulate tactile sensation. In other words, children learn about new textures and how they feel against the skin. Even if they cannot verbally communicate what they are experiencing, they still learn to differentiate objects by their sensory attributes. For that reason, it is highly recommended to choose sensory walls with objects, made of a broad range of materials, including:
plywood,
wood,
metal,
rubber and more.
5. They help toddlers learn to differentiate colors
Objects pained with bright colors foster curiously and keep toddlers busy for a long while. On top of that, sensory walls contribute a lot to the development of color perception.
Sensory panels feature a multitude of items of different shapes, colors, and textures. They are designed using sturdy, eco-friendly materials and must be painted with a non-toxic coating. Consequently, they can survive for decades and are safe for people of all ages. Aside from being stress-free, they can also enhance the décor of any room. That makes a well-built sensory board a perfect present for children aged between 1 and 3 years old.